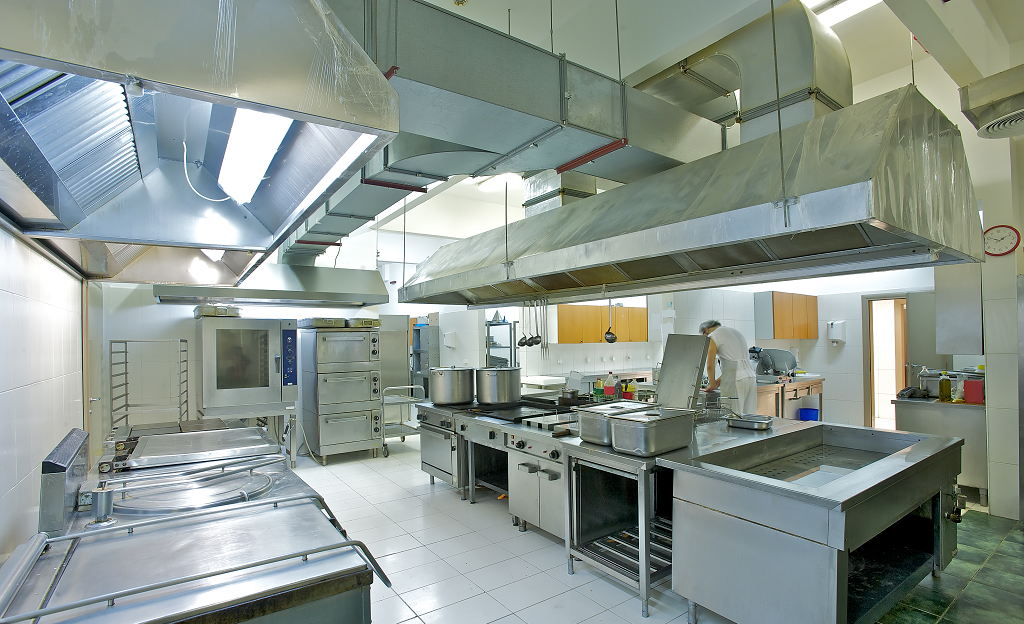 A commercial kitchen exhaust fan is a vital part of businesses that has a professional kitchen such as restaurants, catering services, hospital, tech parks, and community centers. So, a well-established commercial kitchen should pay utmost attention to its canopy and exhaust fan cleaning to guarantee hygiene and safety for its staff and clients. Hence, it is vital to perform a detailed inspection of the exhaust fans and canopies to prevent any kinds of electric hazards. Below are the main reasons why you should get your commercial kitchen exhaust fans and canopies cleaned regularly:
Minimize Health Risks
An exhaust fan or a canopy in a commercial kitchen can help remove toxic gases along with offering a breathable working environment for the staff and customers. Collection of grease, oil, and other similar deposits can reduce the extractor fan's efficiency. The filthier a vent is, the lesser its efficiency will be at absorbing dangerous gases. If you don't keep it clean, unhealthy pollutants can get trapped in the workplace as well. In turn, this will possess a prospective health hazard to the staff and clients. Especially in the case of a restaurant business, this condition can be quite dangerous since it can make the food items unfit for consumption by humans.
Decrease Fire Accidents
The main aim of installing a commercial exhaust fan or a canopy is to remove the harmful smoke and pollutants from the cooking area. It can help prevent grime and oil from damaging your kitchen's interior. To do all this, exhaust fans and canopies are installed just above the cooking area. With constant use, the accumulation of smoke and fats can result in the formation of sticky layers of grease. And because food is cooked under high temperatures in commercial kitchens, there is a high risk of electric fires. As a result, maintaining the exhaust fans and canopies is important to avoid any mishaps.
Enhances Air Circulation
Cleaning the exhaust fan and ventilation system regularly is vital to facilitate proper air circulation. To remove dirt from the exhaust fans, you should focus mainly on parts such as boxes, filters, and more. Residual removal from such parts is vital to prevent bad odor inside the kitchen. Except for improving air circulation, routine cleaning of the exhaust fan and canopy is important to maintain your building's temperature.
Do you have an exhaust fan or a canopy in your commercial kitchen? Do you remember the last time you got them cleaned? Routine Kitchen Exhaust Fan Cleaning and maintenance can help enhance the longevity and performance of your exhaust system and canopy. Below is the list of some professional cleaning techniques recommended by professional commercial canopy cleaning Services that you can use to maximize the performance of your exhaust fans and canopies:
Check For Mechanical Deterioration
Before cleaning the commercial exhaust fan, ensure to perform a detailed inspection of the exhaust fan. Check out if there is any electric or mechanic issue with the fan. Examine to check if any repair is needed in parts like filters and blades. Look for loose cables and wires that connect different parts of the canopy or exhaust fan. A detailed inspection can help figure out the best maintenance plan to highlight the areas that need immediate attention.
Clean The Filters
Filter helps determine the efficiency of a commercial exhaust fan. Other than maintaining a routine cleaning schedule, your exhaust fan's filter will need utmost attention. It is because a clean filter can absorb the smoke and debris efficiently and enhance the overall working of the exhaust. It can also enhance the working of your fan blades. Filter cleaning is recommended to maintain the productivity and self like of the exhaust fan.
Pay Attention to Bad Odor
If you have not cleaned the exhaust fan or canopy of your commercial kitchen for a very long time, you may experience foul odors. It is mainly because of the blockages formed by a collection of grease and debris. Since a commercial kitchen is constantly underused, high temperatures turn the smoke and oil into particles of grease and grime. The presence of such particles results in blockage of the system in the extractor fan. In case you find unusual smells in the kitchen, it means that it is the right time to clean your exhaust system's fan blades.
Make a Maintenance Plan
To guarantee safety and safeguard the health of customers and employees, it is necessary to make a maintenance and cleaning schedule for the exhaust fan and canopy. While you can make your staff clean the exterior of the canopy or exhaust fan, it is best to take the assistance of professionals to clean the complex interior parts of this equipment.
Also read about:
Sell Tickets on Ticketmaster in 3 Simple Steps
How Do You Choose Between Freelancers & Full Time App Developers