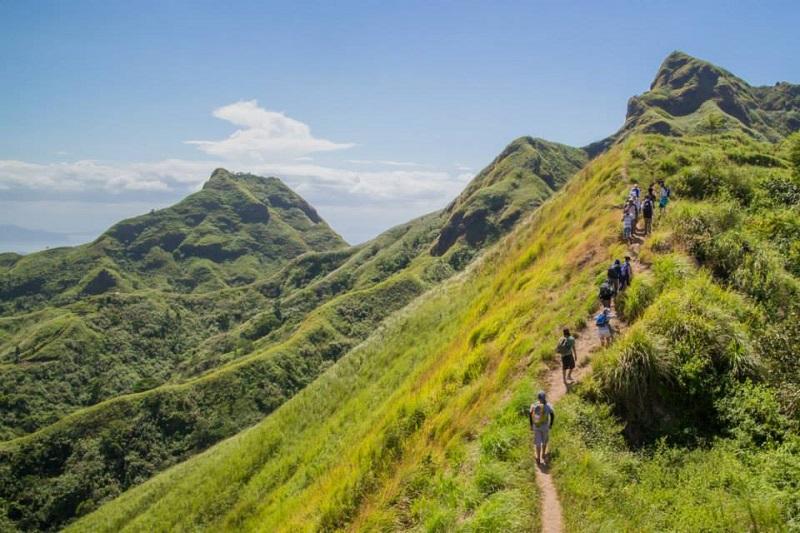 Mountaineering is the most popular land-based adventure activity in the Philippines, thanks to the rugged mountain ranges of Luzon, Visayas, and Mindanao islands. The Philippines boasts several trails that suit hikers of different levels, from beginners to experts. Here we have listed five of the most famous mountains in the Philippines to help you figure out which one is perfect for you. So, outdoor enthusiasts, it's time to admire the beauty of this archipelago from new heights. Go trekking in the Philippines because this is an adventure that challenges and rewards you at the same time!
Mt. Apo, Davao Del Sur:
At 2,956 meters above sea level, this is the highest mountain in the Philippines. The forests of Mt. Apo are home to thousands of birds and animals endemic to the country, including the Philippine Eagle. Although the trek is a difficult one, the fulfillment of conquering the tallest mountain in the Philippines motivates trekkers to take up the challenge and traverse the dense mossy forests, huge boulders, and steep mountainsides of Mt. Apo. The rewarding views from the summit only convince you that the difficulty was worth it!
Mt. Pulag, Benguet:
Mt. Pulag, famed for its views of the sea of clouds, is one of the most popular mountains in the Philippines. The enticing experience of walking amidst the clouds makes Mt. Pulag a dream hike among most mountaineers. Mt. Pulag has both easy and tough trails to the summit, but believe us, every trail offers picturesque views! As you hike up the mountain, the temperature gradually drops to zero or sub-zero levels, so it is extremely important to be prepared.
Mt. Batulao, Batangas:
Mt. Batulao is a well-known hiking destination near Manila, only 2-3 hours from the nation's capital city. Highly recommended for all the newbie hikers, Mt. Batulao is known for its rolling slopes, several mini peaks, and lush grasslands. You can catch the stunning views of the coastal towns of Batangas province from the top of this mountain in the Philippines. There are also a lot of campsites along the way to the summit, so hikers can rest for a little while and take in the scenic landscape.
Mt. Ulap, Benguet:
One of the easiest hikes in the Philippines, Mt. Ulap offers amazing views of the pine trees, rolling grasslands, and the Cordillera mountain ranges. It is a popular day hike from Baguio City (the mountain is located only 45 minutes from the City of Pines). The pleasantly cool weather of this mountainous area allows you to enjoy your trek without feeling exhausted. Moreover, the hanging bridges and Pong-of Burial Caves that you encounter on your way make the trek to the summit an interesting exploration.
Mt. Tabayoc, Ifugao:
Mt. Tabayoc, the second-highest mountain in Luzon, is preferred by thrill-seekers for the unique challenges the trail throws. The highlight of your trek is going to be the Monkey Trail, which requires you to assume the role of Tarzan for some time and do exhilarating stuff like swinging from branch to branch and climbing boulders as you make your way through the mossy forests of Mt. Tabayoc. Once at the top, you can relax, stretch your muscles, and enjoy the panoramic views of Luzon's Cordillera mountain ranges. So, which one of the above five mountains in the Philippines do you think is perfect for the mountaineer in you? If you are looking for more options, do consider Mt. Mariveles in Bataan, Mt. Daraitan in Rizal, Mount Pinatubo in Central Luzon, Mt. Kanlaon in Negros Oriental, Mount Maculot in Batangas, and the Masungi Georeserve in Rizal. For someone planning their first visit to the Philippines, hiking any of these mountains is a must-try. Also, do check out iEagle when booking flight tickets to the Philippines as this online travel booking site offers the best deals and discounts on international flights
Also read about:
The Advantages Of Waterproofing Your Balcony
Advantages and Disadvantages of Mobile Financial Services
How to Perform A Qualitative Risk Analysis